Bio
Quotes
'Intense feelings about love, loneliness and fear, anxiety desire and hope and ambition all come into play into these paintings. Very powerful I thought. What could have been fey, arch or game playing was actually very warm.' Ekow Eshun on BBC Radio 4 on Joffe et Pye 2011
'Saatchi said "There's no artist on earth other than Jasper Joffe who would have painted Himmler this way, using these brush strokes and candy colours. When Joffe hits it right he is really pretty good."' Olivia Cole, Saatchi makes space for a candy-coloured Himmler Sunday Times February 3rd 2008
"It would be easy to mistake Jasper Joffe's charm for egomania. The painter and novelist with a poker habit has a way of describing his pictures in bombastic terms. Yet, like all good card sharks, Royal College graduate Joffe is precociously talented." Jessica Lack, Guardian Guide 16 June 2007.
"London's premier artist/curator" Ana Finel Honigman, October 13, 2008, Vogue Online.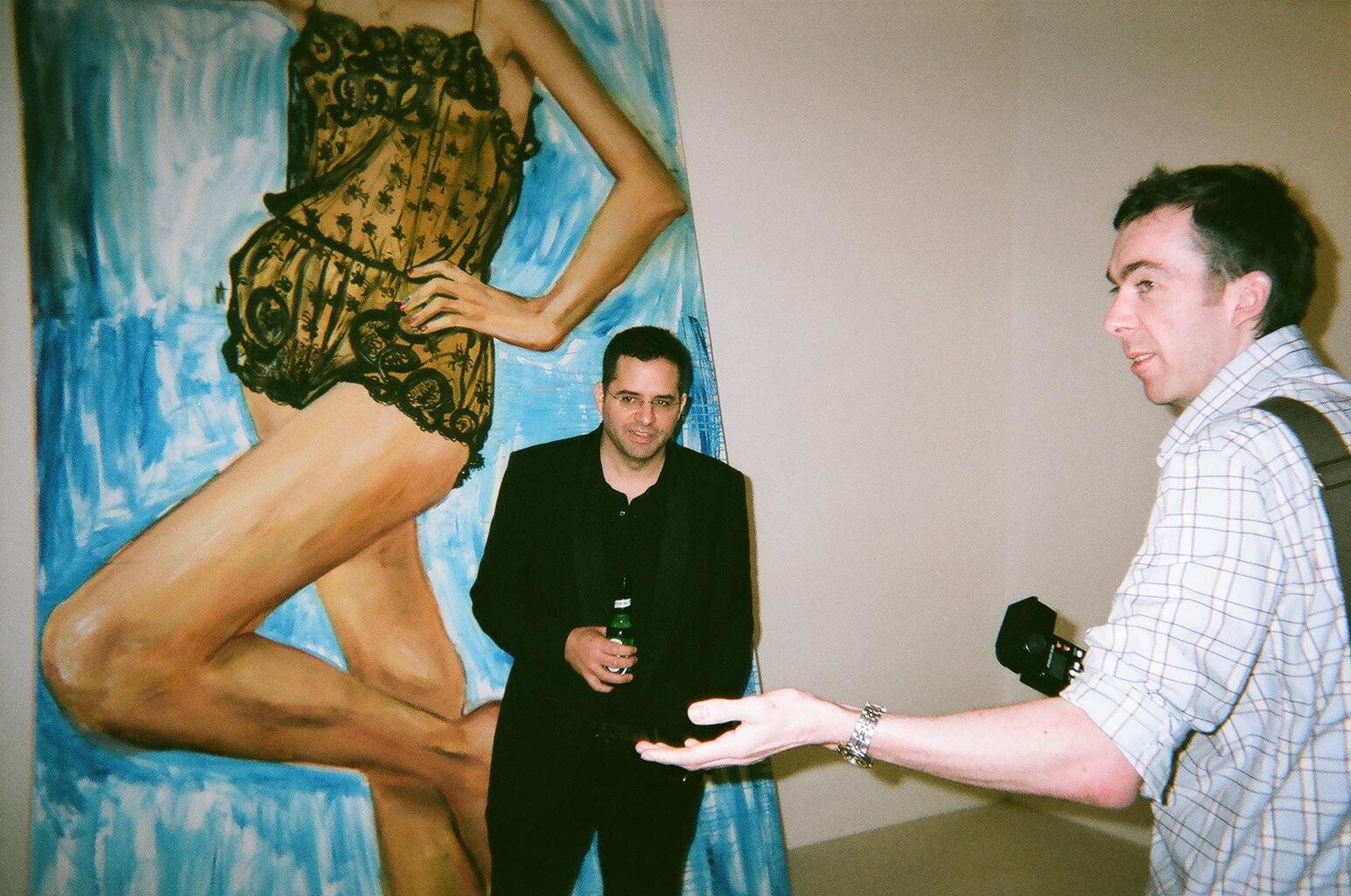 Statement
"I am a painter, curator, and writer. I studied at the Ruskin, Oxford, The Royal College of Art, and was a scholar at The British School of Rome. In terms of my own practice, my shows have always challenged the limits of painting. In 1999 I painted "24 paintings in 24 hours" at The Chisenhale Gallery, which I also performed in Laura Pecci Gallery, Milan and culminated with 72 Paintings in 72 hours in Brno's House of Arts in 2003.
Recent shows include "Beauty Show" at V22 London and "Do the Royal Family like Poornography (sic)" at Sartorial Contemporary Art, London, in 2008. Both shows dealt with aesthetics, status, and the male gaze. At "Beauty Show" I asked people at the private view to define themselves as ugly or beautiful and stand in one of the two galleries accordingly.
In terms of writing I set up an open forum for art and culture reviews in 1999, worldwidereview.com, to make use of the internet as a useful space for widening the scope and participation in criticism. My first novel "Water" was published in 2006, and describes the rise and fall of a contemporary British artist, with competing first and third person voices.
In 2007 I set up the first Free Art Fair with the participation of 25 artists all giving their art away for free. I had become tired of the relentless commercialism of The Frieze and other art fairs, with their focus on price and status. I felt this was alienating not just to artists but also to viewers, and that art as a creative and social object was being lost. In simple terms we wanted to say art was worth more than money. The Free Art Fair was a great success. It was entirely put on for free with everything being given in kind including the gallery space, the catalogue, and even the insurance. Viewers seemed to really engage with the concept and the individual artworks, and in a wider sense it resonated with many artists, including those showing at the large commercial art fairs, who felt that the art world had been hijacked by big money.
In response to great demand I again organised a free art fair in 2008 with double the artists, and including a performance art strand, and a more substantial catalogue with essays by writers including Lewis Hyde. This time the fair seemed to be even more apt with the global economic crisis asking more questions of the overheated art market. We had a mix of very established artists and emerging ones, and more site specific pieces. In 2008 The Free Art Fair really seemed to become a major part of the debate about the value of art, with global tv and press coverage helping spread the message, and people queued for up to three nights in the rain and cold in order to become a free collector."
Jasper Joffe 2008
CV
Born 1975
Lives and works in London
Education
1997-1999 MA Painting, Royal College of Art, London
1993-1996 BFA (first class) Ruskin School of Art, Oxford Selected Awards
London Arts: Visual Arts Award 2001
Abbey Scholar in Painting 1999-2000British School at Rome
Solo and Two Person Shows
2016 The Brexit Photo Booth, The Other Art Fair, London
2012 Power & Beauty Kenny Schachter ROVE Gallery London
Greatest Hits Hillsboro Fine Art Dublin
2011 Jasper and Harry's 99p Shop at The Other Art Fair, London
Joffe et Pye, Chateaux Joffe, London
2010 Pound Shop Paintings, Madan 99p Store, London
Jasper & Harry's Tate Modern" (with Harry Pye) Unit 24/ Spots Dry CleanersLondon
"Great British Jews of the 21Century" (with Gytautas Balkevicius), Kaunas, Lithuania
"No One Tells Us What To Do" (withSimeon Banner) Campbell Works Gallery, London
2009 Sale of a Lifetime, Idea Generation Gallery, London
2008 Jasper Joffe's Beauty Show, V22 Gallery, London
2007 Buck Naked PaintingsSartorial Contemporary Art, London
2005Jasper Joffe, Sartorial Contemporary Art, London
Vote Jasper Joffe! Dazed and Confused Gallery, London
2004 Idol Fools (with Peter Lamb), Three Colts Gallery, London
James Jessop and Jasper Joffe, Rosy Wilde Gallery, London
2003 72 paintings in 72 hours, Brno Contemporary Art Museum, Czech Republic
2002 BECOME REAL curated by Rudi Scholl, The Gallery at APT, London
2001 Abstract Expressionism in Germany 1933-45, The Centre of Attention, London
2000 24 paintings in 24 hours, Laura Pecci Gallery, Milan
Painting at Zero Gravity, 2RC Gallery, Rome
1999 24 paintings in 24 hours, Chisenhale Gallery, LondonSelected Group Shows
Selected Group Shows
2015 The Names, Sluice Art Fair, Transition Gallery London.
2012 Royal Academy Summer Show, London
Friends and Family, Rove Gallery, London (catalogue)
She Doesn't Care, Ebb & Flow Gallery London (catalogue)
2011 Polemically Small, Torrance Art Museum, USA
2010 The Future Can Wait, Shoreditch Town Hall, London
2009 The Free Art Fair (curator), The Barbican Centre, London (catalogue)
Self Portraits, Mummery Schnelle Gallery, London
We're Moving, Royal College of Art, London
2008 The Free Art Fair (curator)
Projector Art Fair, Rotterdam, with the Centre of Attention
2007 The Free Art Fair (curator)
Bob and Roberta Smith's Resonance FM stand, Frieze Art Fair
Stranger Geography, Palazzo Vaj, Prato, Italy
2006 Water, 34 artists imagine being Nathaniel Water, Sartorial Contemporary Art, London
People Like Us, nomoregrey, London
2005 Tinker, Tailor, Soldier, Sailor, 17 Gallery, London
2004 Schwanengesang at Künstlerhaus Mousonturm, Frankfurt
Love N Bullets, Transition, London
Reduced, Centre of Attention, London
2003 The Bold & The Beautiful: New Art from London, RMIT Gallery, Melbourne (catalogue)
Drawings and Paintings from The Evans Collection, Rivington Gallery, London
2002 Miniature, Raid projects, Los Angeles
Fame and Promise, 14 Wharf Road, London
Loco for Rococo, The Nunnery, London
Viva Pablo, Bart Wells Institute, London
Cross Currents, Deutsche Bank, London
Vive La Republique! The Centre of Attention, London
a little Bold & Beautiful, Ferguson McDonald Gallery, London
The Bold & The Beautiful, Mile End Pavilions, London
Giardino, Studio d'Arte Rafaelli, Trento and Galleria Del Tasso Arte Contemporanae, Bergamo
2001 Dai Dai Dai Where do we go from here? Netherlands Media Art Institute, Amsterdam
Mixed Ability, Corsica Studios, London
2000 Funny, Andrew Mummery Gallery, London
Premio Michetti, Francavilla al Mare
British School at Rome
Web
In 2000 created worldwidereview.com, the art and culture review site. It receives around 2500 visitors per week, and has been featured in The Independent newspaper, Contemporary magazine, and many online publications.
Writing
April 2006: publication of novel "Water" by Saqi Books.
(Reviews and coverage in Literary Review, Modern Painters and online publications)
Co-editor of The Rebel Magazine
Contributor to 501 Great Artists published by Quarto Publishing 2008
Founded independent publisher JOFFE BOOKS in 2013
Curatorial
The Free Art Fair 2009, 2008 and 2007, London (www.freeartfair.com)
The Bold & The Beautiful 2002/2003 London, Melbourne, and Hobart
http://www.saatchi-gallery.co.uk/artists/jasper_joffe.htm
http://www.radicaleyes.it/notsonoblebooks/